I'm making this post to announce that my time as a student at Swansea University has officially come to an end. I turned in my dissertation on September 25th, a full 5 days before the official due date. I made a post to my personal blog that day, discussing the end of my career as a student, but I wanted to wait to make a similar post here to give myself a bit more time to reflect. It's now been two and a half weeks since I submitted my dissertation, and it still feels a bit strange to be done. All my life I've been a student, and I've now completed my final experience as a student for the foreseeable future. Of course, it's not official until I graduate in January, but this will be my final post to this blog.
So much has happened in my year at Swansea and I have learned so much, it would be impossible to recap it all here. I couldn't do the experience justice in one post, and each previous post has highlighted a piece of the experience. But the one thing I would like to say is how thankful I am that I made the decision to be a part of the Ageing Studies program at Swansea. When I decided to apply for the program,  I was looking for the opportunity to explore the research side of gerontology. The program at Swansea offered the opportunity to conduct my own research and to interact with and learn from researchers in the field. My experience certainly met these expectations. Prior to beginning this program, I knew how much I enjoyed working directly with older people and that I wanted a career that would allow me to help improve the lives of older people and improve the quality of services provided for them. Though that has not changed now, my experience in conducting my own research has opened my eyes to the importance of research towards service provision. Though I've always known of the strong need for evidence in order to have evidence-based practice, I didn't expect to enjoy my evidence collection and analysis as much as I did. I know it helps that it was on a topic that I am passionate about, but even so I found the research process far more challenging and engaging in an enjoyable sense than I thought I would. Now as I'm looking for jobs, I find myself looking at nearly as many research-based jobs as service-based positions. In the long-term I think I would still find a career working directly with people more fulfilling, but in light of having just completed my own research and had a taste of that experience, I'm thirsty for more!
I'm not sure where I'll end up in the next few months, what job, what city (or country, even!) but I'm glad to have been able to share my experiences at Swansea University on this blog, and I hope that you (my readers) have enjoyed as well or found something helpful here.
Hwyl Fawr–that's goodbye, in Welsh!
Well, the countdown has begun! Last Friday was officially one month from when my dissertation is due–that seems CRAZY! It also blows my mind that I've been over in the UK for a year now. I'm in a good place when it comes to my dissertation; I still have a lot of work left to do but it will definitely be manageable in the time I have left. Shortly after my last blog post I met with my dissertation supervisor and we agreed that I could end my data collection and go ahead with my analysis and discussion. In the end I had a total sample size of 16 people, which is quite small considering I'm using quantitative data, but still workable as long as it's framed in terms of a preliminary/feasibility study. I'm also getting to include something called reflexive analysis, which involves discussing the practical issues that emerged in terms of design, recruitment, ethics, and so forth. I'm really enjoying it! I'm hoping to turn it in a few days early, so my current self-imposed deadline is 25th September, but the actual due date is the 30th.
I've also begun looking for and applying for jobs here in Wales. It's something I'll focus on more and have more time for once I've finished my dissertation, but I figured that my deadline is close enough that I might as well begin now if jobs come up that I'm quite interested in, and there have been a few already.
Sorry I don't have much more interesting things today, but my life has really been solely focused on my dissertation lately. As a bonus, here's a really beautiful news story that I found via the Daily Mail, but that actually took place in my hometown!
I really recommend watching the video because it's much more powerful that way, but it's a bit long, so you can read the Daily Mail story here if you'd prefer. Hope you enjoy!
Sorry I've been a bit quiet lately, but I've been quite busy with both leisure and academic stuff! A few weeks ago some friends and I went to the Warner Brothers Studio outside of London where they filmed much of the Harry Potter movies, and have now turned into an exhibit with tons of original props and set pieces. You can read about that over here on my personal blog if you like, and it's a trip I'd definitely recommend for any Harry Potter fans! Other than that Josh has been chauffering me all around South West Wales to do my data collection for my dissertation, which is coming along all right. Tonight I'm going to talk about something a bit more fun though–representations of older people in television and films! Last night Josh and I watched Up, which is in my opinion the best Disney-Pixar film to be released in the past five years (although it's a close tie to Toy Story 3). Then we watched Gran Torino, which also features an older man as the lead character. The choice of these films was pretty random and the decision to blog about them came afterwards, so I'm not touting them as the most relevant films about older people or anything like that, but I just thought I'd share some thoughts and observations on the characters.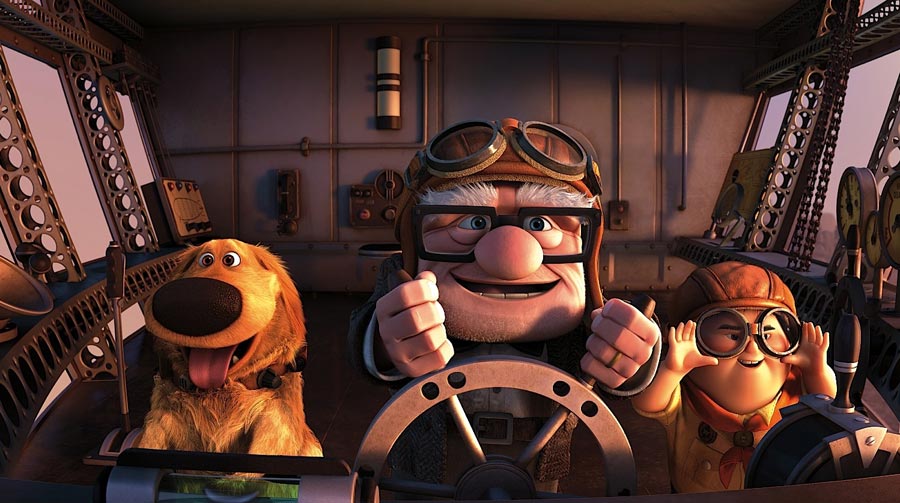 I'm going to skip over summarizing either of these films in order to keep this short and to avoid spoiling them for anyone who hasn't seen them, but I would highly recommend them both! Up is known for its amazing ability to make nearly anyone cry within the first 15 minutes, but overall it's a fairly light film; Gran Torino is much more intense in its themes. Both of them feature an older man as the lead character. In Up this is Carl Fredricksen, a widower living alone in the house he shared with his wife for their entire life together. In his physical representation he is quite the stereotypical old man, with his age represented by his use of a walking stick, hearing aid, glasses, and his white hair. The main character of Gran Torino is Walt Kowalski is also newly widowed, but less the physical stereotype of age aside from the natural signs of age that Clint Eastwood was showing at the time. Both characters are portrayed as the stubborn, grumpy old man, which is another quite common character to appear in television and film, and both characters at the start of the film are portrayed as trying to ignore the massive changes going on in their neighborhoods and trying to maintain some sense of normality. Both characters are faced with the possibility of entering retirement homes early on in the films, and in both cases this is portrayed as the "solution" to what others perceive as the men needing assistance. In Walt's case, his family, who seems oblivious to his feelings and desires and don't take the time to listen to him, suggest that he moves into a retirement community to relieve him of the stress of taking care of his home on his own, not realizing how much he enjoys that. In Up, a misunderstanding and a mistake cause Carl to be deemed a "public nuisance", and the court orders him to be admitted to a nursing home, basically as a way to get him out of the way. However, both Mr. Fredricksen and Walt Kowalski defy some of the stereotypes of ageing in their own ways. When approached by a young boy offering him assistance "across his yard", Carl instead asks for assistance that leads the two on an epic adventure where he's able to finally find the adventures he's wanted since he was young, demonstrating that just because he's old does not mean he is "elderly and infirm". Walt Kowalski also defies the stereotypes of ageing by becoming a hero in his neighborhood and making friends with the teenagers next door, and teaching them that there's more to him than meets the eye. This is something the two films have in common–the emphasis on intergenerational relationships, and on the fact that older people have their own stories and personalities. So often we put them in the box of the "old person" and forget that they've lived entire lives with their own successes, dreams, tragedies, and adventures, and this is what both of these films demonstrate. Both the characters share these things in unexpected friendships with young people, and as cliché as this might be, it's an important message to remember.
I came back to the UK from Spain on Sunday to find the weather nearly as warm as what I'd left behind! Awesome
Though somehow I managed to go on holiday to somewhere with the weather at 40+ degrees and come back with a cold, which is not so awesome. However, my holiday was great. The flat we rented was literally right around the corner from the beach, and we spent plenty of time taking advantage of that! I also got to practice my Spanish and eat loads of fresh seafood, and did plenty of leisure reading, which makes a nice change from dissertation-related reading. It's good to be home though. On the train ride back from the Birmingham airport, I didn't start to feel like I was really back until we got into Wales and started seeing signs in Welsh and English. I'm so used to that now! I am really pleased to have gotten a few days away and also to have made it to another country. As you may know I haven't done any traveling outside of the UK since I arrived here in August. I guess that's not quite typical for an international student. Most Americans come to the UK to study and travel as much as they can around Europe because it's so much easier and cheaper! But between uni and having a part-time job, I haven't really had the time to travel, and I also don't want to spend too much money on traveling because the money I'm earning now will go towards paying back my student loans. Since I am hoping to stay in the UK long-term, I don't feel there's as much pressure to do everything I want to do and go everywhere in the year that I'm here for my program. I definitely want to see more of Spain, the big cities like Barcelona and Madrid with lots of unique culture and history, but for this holiday I really just needed to relax, so it was perfect. I hope everyone is enjoying the sun! I have plans to go to the beach later this week, taking advantage of the heat while we can!
This is just a quick update on what's going on for me lately for those who read regularly! Today is the first day that's truly felt like summer to me, based on what I'm used to summer being at home! It's a gorgeous 77 degrees Fahrenheit out and all I want to do is go to the beach! As luck would have it, I'm leaving early Wednesday morning for a few days in Spain, so there will be lots of beach time to be had there. I think I mentioned in my last post that I'd received ethical approval for my research study, so last week I began the process of recruiting participants and that seems to be on the right track! I'm looking forward to my holiday and ignoring my studies for a while though, and then when I get back I should really be able to begin doing my interviews and collecting data. I hope those of you in the Wales with me are taking full advantage of this beautiful weather; I will report back on my return from Spain!